Virtual Lab Troubleshooting
The Virtual Lab is a service provided by CSBS Computing that allows faculty, staff, and students access to selected University-licensed programs from virtually any computer with an internet connection. Supported platforms include Windows, Mac OS, Linux, Windows Phone, iOS, Android, and Blackberry. Available Software List.
This page is intended for users who are already able to access applications through the Virtual Lab. If you have never successfully accessed the Virtual Lab on your current computer, please start with our initial setup instructions.
Saving/Accessing files from Virtual Lab applications
Though Citrix Workspace supports saving and opening files from local drives and USB devices, it is often easier and safer to save files to your N: drive. The N: drive is network storage maintained and backed up by CSBS Computing. There are many advantages to saving to the N: drive, like the fact that it is available from any computer that you launch the Virtual Lab on.
To get an N drive account, simply request a CSBS Computing account. Please note that if you create an account for any class from a department supported by CSBS Computing, you can continue to use that account in subsequent classes from different departments. For example, if you take a Psychology class one semester, and then a Sociology class in a later semester, you will not need to request a new account.
Once your account is created, your N drive will show up in File, Open and Save dialogs. It will be on the left side under This PC, titled "u0123456 (\\csbs-cfs1.csbs.utah.edu) (N:)".
When running virtual/remote applications, finding where you have downloaded or saved a file to can be confusing. Hopefully the following information will make it a bit easier for you.
Always use the "Save As…" feature: When downloading or saving files always use the "File, Save As..." menu options.
By using the "Save As…" menu it will allow you to specify where the file will be stored making it easier to access later on. You should see a screen that looks like the below screenshots. Each screenshot references a different location that you could potentially save your files.
The preferred location is the N: drive (network storage that is regularly backed up). This is accessible from the Virtual Lab as well as the Student Labs managed by CSBS Computing.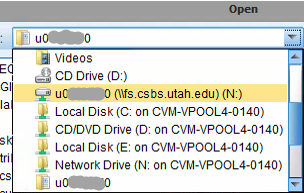 Another option is personal Flash or USB Drives. These are not backed up, and can be easily carried with you.
The Flash or USB drives appear as "Removable Disk" when accessing it from within the Student Labs or the Virtual Lab on a personal computer.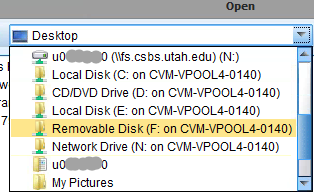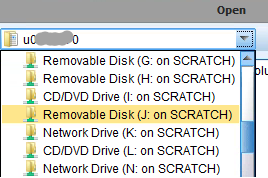 You can also temporarily store files on the hard drive of the computer you are working on in the student labs. NOTE:These files will be deleted at the time you log out.
This can cause confusion because when downloading in the labs, the C:\ drive listed may be the C:\ of the application server and not your computer. Often times it is hard to discern to which drive you are saving. Be sure to find "Local Disk (C: on [YourComputerName])".
Due to this potential confusion and lack of backup we do not recommend working on files saved to C:\
Accessing files on your personal computer from Virtual Lab applications
When you attempt to save or open files from your local computer, your local hard drives may not appear in the file dialog. If this is the case, use the following procedure to allow access to your local files. The process is different for Windows and Mac; please follow the instructions for the platform that you are using to access the Virtual Lab.
Windows:
First, login to https://apps.csbs.utah.edu from any web browser and launch any application. Once the application has loaded, you should see a Citrix Workspace icon in the bottom-right of your screen, near the clock. It's a black icon with what look like sideways wi-fi bars. Please note that you may need to click the triangle in order to make the Citrix icon appear.
Right-click the Citrix icon and choose About. On the window that pops up, click Advanced, and then Connection Center.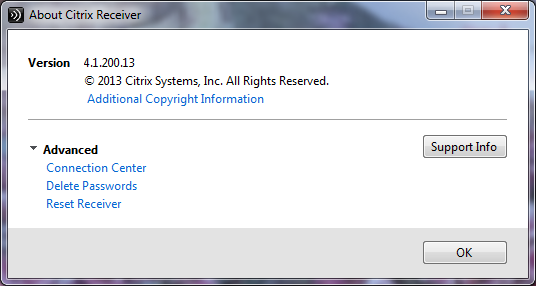 Within Connection Center, the left window pane will list the server you are connected to and the application that is running. Select the server by clicking on the name under "Active". Its name will be something like CSBS-XVDA1.

On the right side, locate the "Preferences" button, which should now be clickable. On the first tab, "File Access" select the "Read and Write" option. Now, you should be able to save and open files on your local computer. In the file open/save dialogs, your local computer will show up as something similar to "Local Disk (C: on hostname)" where hostname is the name of your computer. You may need to close and relaunch the application you are working with in order to get this functionality enabled.
Mac:
Login to https://apps.csbs.utah.edu from any web browser and launch any application. You should see a Citrix Workspace icon show up in your Dock.

Click this icon. In the top left of the screen, click Citrix Workspace and then click Preferences.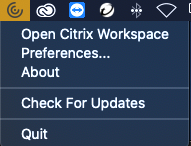 Within the Preferences screen, click Devices. Change the setting to Read and Write.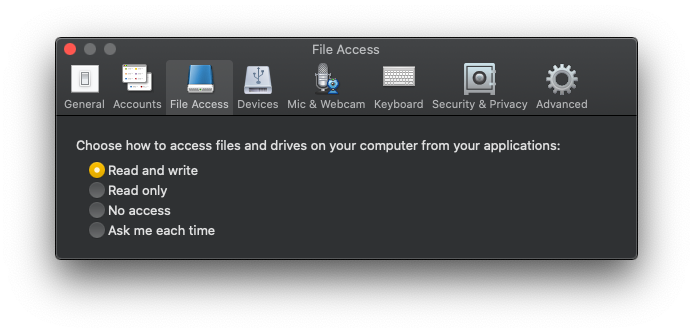 Now, when you try to open or save a file, you will be able to access local files. Please note that the way files and folders show up will not be particularly Mac-friendly; your local computer will show up as "Local Disk (C: on hostname)". By default, your hostname will be something like "yourname's MacBook Air". To access your Desktop or Downloads folder, you will need to select "Local Disk (C: on hostname)", then Users, and then your username.
Accessing files stored on removable media (flash drives, etc.)
Many of our users work on documents both in a physical lab on campus, and on the Virtual Lab on their own computer. A popular choice for transferring documents between the two systems is saving to a flash drive on one system and then opening from the flash drive on the other system. This is a supported solution, but there are a few things to keep in mind. First and foremost, it's really easy to lose flash drives! Also, flash drives usually need to be connected *before* you launch your application in order to be accessible within Virtual Lab applications. Finally, be very careful to completely exit all applications and Citrix itself, and then safely disconnect the flash drive before disconnecting it from your system.
Because of these concerns, CSBS Computing recommends saving to your N drive instead. Instructions for creating an N drive and using it are at the top of this document.
If you would still like to keep your work on a flash drive, you may enable access to it by following the instructions in the above section labeled "Accessing files on your computer from Virtual Lab applications". On Windows, make sure to select "Full Access" under USB/Other devices. On Mac, no additional changes are required.
Mac: Error message "Cannot write connection file"
After upgrading the Citrix Workspace client, some Mac users are unable to launch Citrix Workspace. When you attempt to launch an application, the error message "Contact your help desk with this information: Cannot write connection file "/Users/username]/Library/Application Support/Citrix Receiver/Modules" appears, and the application will not open. This error message is due to a temporary file used by the previous version of Citrix not being deleted by the installer for the new version of the software. The problem is easy to resolve by simply manually removing the file.
To remove the file, open Finder. In the menu bar at the top of the screen, click Go. Click Go to Folder... In the window that pops up, enter ~/Library/Application Support/Citrix Receiver and click "Go". You should see a folder similar to the one shown in the following screenshot:

Delete Modules and/or Modules.conf; depending on which previous versions of Citrix Worskpace you had installed, you may have either or both. Try launching your application again. If it still does not work, please contact CSBS Computing.
Windows: Removing the Citrix Workspace client
If you installed Citrix Workspace by any method other than the one recommended in our virtual lab instructions, you may need to completely remove Citrix Workspace from your computer before you are able to properly access the Virtual Lab. Citrix has provided a Clean-Up Utility for this purpose. You may download and run this utility. Simply accept all defaults from the Clean-Up utility. When the utility is finished running, restart your browser and then re-install Citrix Workspace again using our virtual lab instructions.
How to contact CSBS Computing
If you are unable to use the virtual lab after following relevant instructions above, or if you have a question or problem not covered by this document, please contact CSBS Computing for additional help. You may reach us by phone at 801-585-8985 during regular business hours, or by creating a case at https://support.csbs.utah.edu/get-help/helpdesk.php.